Case Studies
Here are some case studies from a variety of paticipants, both individuals and groups.
'Return to Work' Courses
Funded by European Social Fund.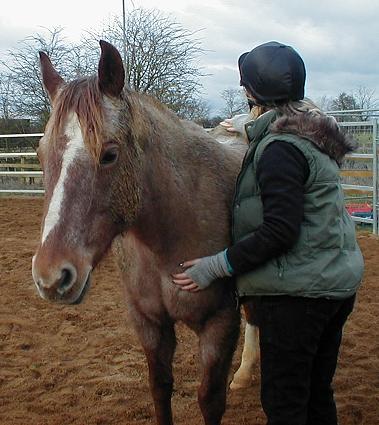 We ran a series of 12 session courses for people experiencing barriers returning to the workplace. These barriers included mental health problems, living with the challenges of autism, addiction recovery and recovery from physical illnesses or accidents. Participants came from The Shaw Trust's Pathways to Work programme, and many were long term unemployed. The courses were structured to include confidence building activities with the horses plus jobs that would normally be undertaken by volunteers, such as gardening. Very few of the participants had any previous horse experience and a number were very scared of going anywhere near a horse. However, all participants succeeded in taking part in activities with the horses including grooming, leading and long reining. There was a high attendance rate, and by the end of the 12 sessions all the participants reported an increase in confidence. Over 50% returned to work or took on voluntary roles.
Murray - a 9 year old boy with autism
Paid for by family.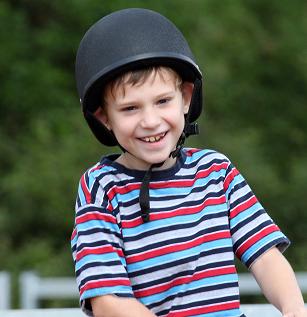 Murray attends for a half hour session each week, riding and grooming the horses. His parents say, "Horses Helping People is amazing! Our non verbal autistic son loves his sessions once a week. It has really motivated him. He becomes so calm on a horse and so focused while spending time with Debbie and Dave and the horses on a Saturday. He has also been known to speak some words amongst the horses. Horses Helping People provides a calming and therapeutic atmosphere and we are truly grateful for all they are doing to enhance our son's life".

Carer of elderly father
Funded by Community Chest sponsorship plus private funding and Carers Assessment funding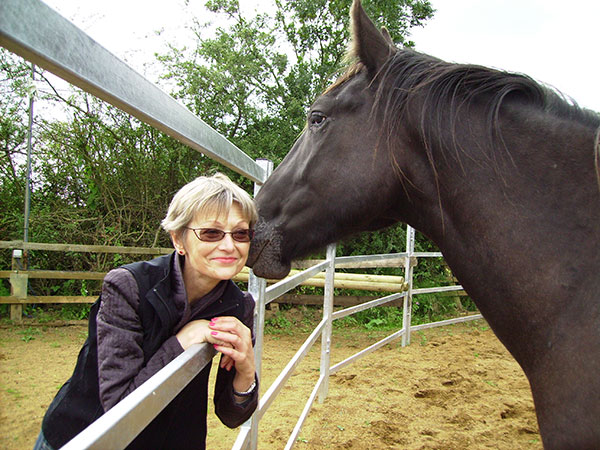 "Perhaps it is a step too far to suggest that if we 'listened' to horses we wouldn't need human counsellors or therapists : but I say this because the impact horse 'therapy' had on me was deep, practical and long-lasting.
About four years ago, I went as an observer to see what equine-assisted therapy was all about for a magazine feature. I came away from Horses Helping People hooked and took a course myself. At the time I was working, getting over my mother's death, my divorce and looking after my ill, elderly father. I thought spending time with horses would be an escape.
It was much more. Yes, the fields, the peace and calm generated by the horses and their partners Debbie and Dave who run the centre, are a bolt-hole from the busy-ness of what we call normal life, but it was the horses who taught me such a lot. While I cleaned stables, or picked poo up in the fields or simply sat or stood among the horses, I began to learn. How to listen, how not to over-react, how to be more balanced. The physical work and the head had to work in unison. Horses are there living their lives simply and naturally, and if you as a guest horse among them don't do the same , you'll get kicked or knocked over or you might cause accident or endanger the animals and other people too.
On a purely day-to-day level, I found that I was getting less stressed as a carer for my ailing 88-year-old father, more able to cope. At deadlines, I found that I got through my work much better, less panicky, less red-faced. Even after just a few weeks around the horses I became more aware, more paced, more balanced about what is and what is not that important.
It's not easy going through such a course but it isn't difficult either. The horses seem to know what you need and they tell you. It's a shock to the system sometimes and it hurts sometimes but when one day you realise you have broken through into a wiser way of being and doing, it is so ingrained it stays with you.
Each in his or her own way, from Louis, the nervous distant one, to the joyful bouncy ear nibbling Dollar to the most adorable wonderful grande dame and mentor Buddy, to the long-suffering but stoic Puff, to bouncy new baby Goldie, too many to name but each as important as the next, all at Horses Helping People helped me. And I am so grateful to those lovely beings.
Learning about the way herds behave, how the hierarchy works, and how the horses relate to each other really does help out in the human world. I have become more mindful when I drive, I have a better understanding of what can happen between bosses, employees, newcomers. I have seen that horses can be happy, fun, sad, ill, grumpy, protective, relaxed and easy-going. In fact just as we humans can be. But learning to be in the here and now is the best lesson for me. I think that can teach us to be more in tune, more relaxed, more considerate, and therefore much more positive and useful in what we are and do."

Positive Activities for Young People, jointly funded by Buckinghamshire Youth Offending Service and the Community Safety Team.
"I brought three young people to the centre to start a 12 week course in therapeutic horsemanship. The three had all been referred into the CPAST (crime prevention) team, which is part of the Youth Offending Service, for different reasons including low self-esteem and/or episodes of aggressive behaviour.
From the start, I was impressed with their dedication, particularly given that the first session was conducted in -7 weather! All three developed their skills of observation and the horses provided useful analogies for us to discuss their behaviour and incidents outside of the yard. They were able to start the process of self-reflection, albeit at different levels, from the lessons they learnt at the centre.
"If you think bad things, the horse will think bad things and you won't be a good team to work well together" was a comment from the youngest of the group, at 12 years old, and showed a growing awareness of the importance of intention.
Another young person, who entered the course with the stated aim of becoming more positive about herself said that, when at the stables, "[I] feel better about myself when I'm working with the horses."
The third young person, who had struggled with low self-esteem, said "when you say that you need your space to a horse, I have learnt that it's ok and I could do the same to a human."
All three remained focused and dedicated throughout the course and noticeably developed, both in the areas they had originally attended the course for, but also in others. As they all felt respected and valued, which was perhaps unusual for some of them, so they were able to reflect the same respect to both the horses and the course leaders, which led to a really positive working environment."